At the end of 2008, I purchased a Blu-Ray Hitachi video camera with a built in mini DVD burner. I thought this was a wonderful technology because, not only did it have the 30 GB hard drive, but if you ran out of space or wanted to create a back-up file, the rewritable DVD was at your service.
The image was taken from the Hitachi site and my camera is the shiny silver one on the right.
I immediately ran into problems because the compression system used on the camera creates m2ts files, a file type that could only be opened and edited with the very basic software from Pixela that came with the camera.
This software had few conversion options, no titling and basic edit functions with no transitions. The editing features in the camera were just as as good. Even home movies should look better than this!
When I went to Banff, I used the music dept's Sony and Pauline and Ione's Canon HD cameras because they store information in mts format. The mts format is readable by Final Cut Pro and can be converted into useable 1080p HD video with no loss of quality.
Despite the best efforts of the video experts at Banff, my camera was useless because the files could not be converted into an editable format such as AVI or Quicktime mov.
In September of 2009, almost a year later, I decided to try to use my video camera again. I wondered if some kind of conversion software had been developed. There had been some advances in that Windows movie player would now play the uncompressed m2ts files, but it would not convert them to wmv. VLC media player would convert in Ubuntu, but only to SD. There were several other conversion software brands available on the internet, but they all either converted to SD, produced artifacts or other visual problems or had no sound.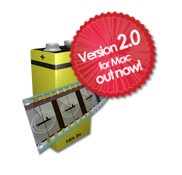 Enter Shedworx Voltaic conversion software!
This software works to convert my m2ts files to editable formats with a number of options of output. I just upgraded to version 2 and there are even more conversion options that re-compress for iPhone and other video applications as well as for editing in professional software.  It also includes an editor and will automatically upload edited movies to your You Tube account.
I have not tried all the new features, but the conversion is rock solid and I have been producing Blu-Ray quality films on the Apple Macintosh version. I understand the newest version of Final Cut will convert m2ts files now, but for those of us on a budget, the $39.99 USD price tag for Voltaic is a lot more economical than an upgrade of FCP for $299 USD.
Another problem with upgrading is the new FCP will only run on the intel chip and requires a newer operating system. Voltaic is working great on the Power PC quad core G5 with 10.4.11 Tiger.  It is really expensive to keep up with the latest and greatest Apple offerings, so Shedworx gives the indie film maker a chance to produce in Blu-Ray without having to recycle a wonderful, working computer.
Thank you Shedworx, for providing me with a free upgrade to 2.0 because I bought my copy of the software late in 2009! This is a very generous program for a software company and I am happily using my new update today.